| | | | | |
| --- | --- | --- | --- | --- |
| | | Grand Prize | | |
Jorge and Daniel will create an 8 panel comic that explains your research (or anything appropriate of your choosing). Ever wanted a PHD Comics about your work? Here's your chance! 3 winners will receive an original digital comic drawn by Jorge Cham.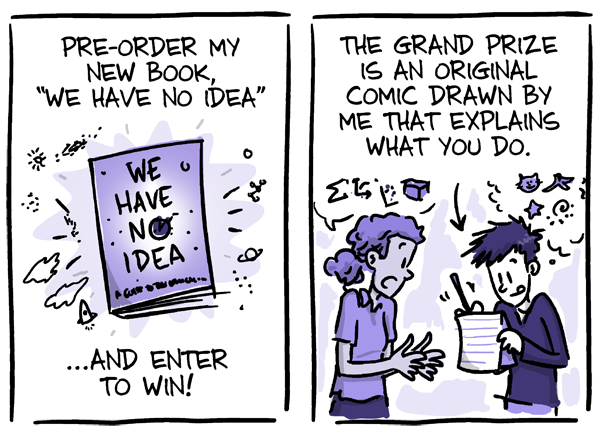 MORE PRIZES! The more pre-orders we get (see the tracker at the top of the page), the more prizes are unlocked:
Extra Prize #1
UNLOCKED! - Jorge and Daniel will name a hypothetical new particle of matter after you. 10 winners will receive a framed certificate with an original portrait of you as a particle drawn by Jorge Cham.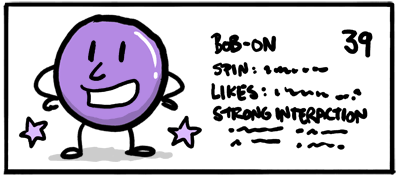 Extra Prize #3
LOCKED - Jorge and Daniel will Skype with you, your lab or your class to discuss science communication. 5 winners.
| | | | | |
| --- | --- | --- | --- | --- |
| | | ? MYSTERY PRIZE ? | | |
LOCKED - The Universe is full of unknown (and perhaps unknowable) questions, including what this prize will be. It might involve Jorge and Daniel baking something and sending it you. 5 winners.
Who can enter?
This current promotion is open only to the U.S., Canada and the U.K. Stay tuned for promotions in other countries (WE HAVE NO IDEA is being translated to over 13 languages).
Is purchase necessary?
Technically, we can't check if you bought the book, but please do! We bet you're going to like it a lot.
What's this about naming a particle after us?
As you'll learn in the book, physicists have a pretty good list of all the matter particles that have been found so far. But it remains a mystery how many different types of particles there are and what many of them are for. Therefore, it's perfectly feasible for us to hypothesize particles that bear a striking resemblance to you and whose behavior eerily seems to match your personal quirks.
What's this about an anti-matter version of us?
As you'll learn in the book, every matter particle in nature has an anti-matter version of itself. Anti-matter particles behave exactly like regular particles (except they have opposite charge) and can even form anti-atoms, and possibly anti-molecules and anti-people. Somewhere in the Universe, there could be an exact version of you, but made out of anti-matter!
If everyone in my lab buys a copy of your book, does that increase the chances you'll make a comic out of our research?
Why yes, yes it does.