PHD Comics wants to come to your campus!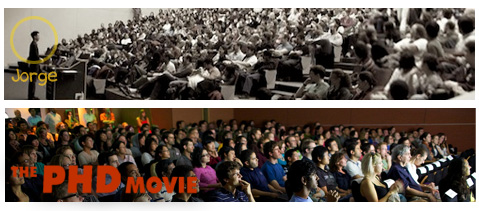 Organize a lecture with Jorge Cham or a PHD Movie screening!
What does Jorge talk about in his lecture? Find out below!
About the talk:
The Power of Procrastination!
A recent survey by U.C. Berkeley found that 95% of all graduate students feel overwhelmed, and over 67% have felt seriously depressed at some point in their careers. In this talk, Jorge Cham recounts his experiences bringing humor into the lives of stressed out academics, examines the source of their anxieties and explores the guilt, the myth, and the power of procrastination.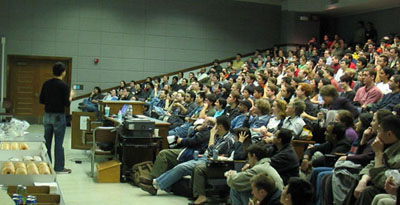 Testimonials
"Jorge Cham's talk was humorous and helpful. His cartoon strip has been a giant plus in helping graduate students acknowledge and cope with the stress they experience."
- Isaac Colbert, Dean of Graduate Students, M.I.T.

"I've never heard so many graduate students *really* laughing at the same time!"
-Jory Zmuda Ruscio, Chair, Graduate Life Center's Speaker Series, Virginia Tech

"The message of the presentation really resonated with our students. The graduate school journey can be extremely isolating, and Jorge Cham's presentation and comics normalize the experience and provide solace and humor."
-John Nonnamaker, Graduate Student Career Development, M.I.T.





To date, there have been over 400 PHD Lectures and 600 PHD Movie screenings all around the world.



The PHD Movie is available for public performance licenses. Need an event to cheer your students up? It's a great way for everyone to come together.


PHD Movies Testimonials

'A brainy movie with heart and soul.'
-The Times Higher Education

'I don't think I've laughed that hard in a long time! Great movie!!'
-Paige, U. Wisconsin

'I really enjoyed your movie because it helped me get my academic life back in perspective.'
-Kaitlyn, Michigan Tech U.

'It was a huge success. Everyone was very positive. We even needed to add more seats to the auditorium.'
-Pieter, CERN.

'I just want to let you know that we had 1,535 students turn out. Thanks for the great movie!'
-Tim, U. Illinois

'Turner Auditorium was packed!"
-Katherine, Johns Hopkins U.

'We were surprised and overwhelmed by the popularity of this event.'
-Grad Student Social Club, U.C. Berkeley


For screening information, please contact: jorge

phdcomics.com


More testimonials below: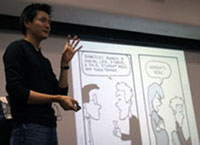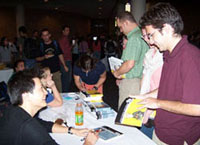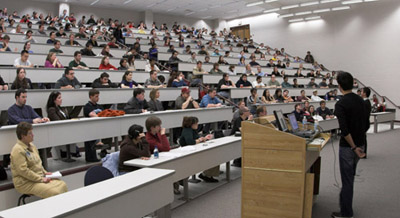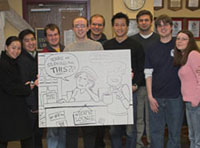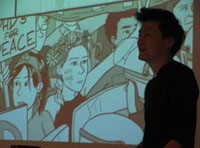 Winter 2006 Tour photos: Purdue Univ., Kansas State Univ., Univ. Texas Med. Branch, Univ. Illinois Urbana Champaign, Purdue Univ., Univ. Calgary
*Please note that attendance will vary significantly depending on your school.
From Talk Organizers:
"Jorge Cham's talk was just terrific. I loved it and obviously so did our audience here."
-Mary Johnson, Director, Graduate Career Services, Yale University

"We had such a great turnout and I still can't believe how enthusiastic everyone was!"
-Angela Noel-Hvitved, Graduate Student Association, Rice University

"This was such a successful event for us."
-Cara Skeat, Associate Program Director, Georgia Tech Student Center

"We were so happy that we were able to pack the room! It was definitely one of the most successful events we've run!"
-Shin-Yi Lin, Chair, Graduate Student Government, Princeton University

"An excellent talk, people thoroughly enjoyed it. The Q&A session was lots of fun."
-Sidharth Jaggi, The Caltech Y

"It was an enormous success."
-Sharon Belden, Assistant Director, Office of Career Services, Harvard University

"The crowd was so big at Cornell that they were actually hanging from the rafters... It was one of the few times I think the students really thought we 'got it right'!"
-Victoria A. Blodgett, Director, Graduate Student Life & Career Development, Cornell University

"Penn students loved him! We got lots of positive feedback."
-Julie Vick, Associate Director, Career Services, Univ. of Pennsylvania

"If you have not engaged Jorge on your campuses, do so. An exceptionally well-received program by UCLA students."
-Albert E. Aubin, Senior Associate Director, Counseling Services & Campus Relations, UCLA Career Center

"It was the most popular event we've had that didn't involve massive amounts of free food or alcohol."
-Joel, Peer Mentor, Graduate Division, UC Santa Barbara



From Students:


"One of the funniest talks I've ever been to."
- James, U.C. Berkeley "I can't remember when I have had as many laughs. I am sure many of our colleagues will benefit from your philosophy and shared experience."
-Damian, Rensselaer Polytechnic Institute

"Your lecture was very insightful and one of the most entertaining I've heard."
-Ayan, University of Maryland "Your talk has been the topic of conversation for the past couple of days. It was a great talk and very well delivered."
-Gelareh, University of Maryland

"Thanks again for the fun you bring into the labs and lives(!) of grad students."
-Bilal, Johns Hopkins University

"Thank you SO MUCH for signing my books and giving a wonderful talk at Yale. You made my month!"
-Robert, Yale University

"Thanks for helping us to keep a good perspective on grad life."
-Calvin, Princeton University

"You were very funny. I found myself REALLY pleased with what you had to say. I think your talk was more motivational and educational than most of the career seminars that are organized to supposedly keep us on track."
-Geoff, North Carolina State University

"It was so nice to go to your lecture and laugh for an hour about how life is for all of us. It is SO good to know that other people are in the same spot as you. It's something we often forget when we're caught up in papers and the drama of grad school."
-Betty, University of Utah

"You're taller and better looking than I expected!"
-Anna, Carnegie Mellon University





Univ. Cambridge, October 2007