Your Campus Newspaper


Want to see your campus paper print "Piled Higher and Deeper" in their comics section? Then contact your paper's editor and let them know! Let them know it's a great way for their paper to connect with the (often ignored) grad population. Tell them more information for newspaper editors can be found at:
phdcomics.com/newspapers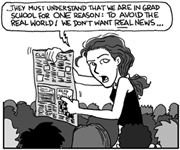 Advertise! Post Fliers


Print these fliers out and post them around campus. Use them to decorate your office, lab or dorm room.


flier (a)


flier (b)


flier (c)


Motivation flier (d)


Work Output flier(e)


Procrastin-X flier(f)
Suggestion: the fliers (a ,b and c) are more effective if you post all three next to each other
Your Campus Bookstore


Help us distribute the Piled Higher and Deeper book! Print out this flier:


Bookstore Flier
Take it to your campus bookstore (try the information desk) and let them know it is a letter for the book buyer.
Unable to print it? Go to the information desk and ask that they carry the book anyways. Sometimes they listen!