A fun and informative guide to the biggest unanswered questions in the Universe.
PHD Comics creator Jorge Cham and particle physicist Daniel Whiteson team up to explain everything we DON'T know about the Universe, from Cosmic Rays and Dark Matter to time travel and the Big Bang. Filled with their popular infographics, cartoons, and clear and entertaining explanations, this book is perfect for anyone who's curious about science and all the big questions we still haven't answered.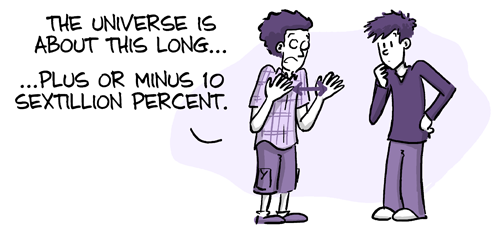 Published by

What people are saying:
"Lucid and irreverent... This fun guide is just the ticket for science fans of any age." - Publisher's Weekly,
Starred Review

"Lively... An entertaining and educational review for anyone seeking to brush up on or build his or her knowledge--or, perhaps better, lack of knowledge." - Kirkus Reviews

"A delightful combination of comedy and cosmology that is as charming as it is informative." - Zach Weinersmith, creator of Saturday Morning Breakfast Cereal

"It's hard to imagine a more enjoyable way to explore the unknown than by reading this book. Jorge Cham and Daniel Whiteson will guide you through the biggest mysteries of the cosmos, smiling all the way." - Sean Carroll, author of The Big Picture: On the Origins of Life, Meaning, and the Universe Itself

"This witty book reveals the humbling vastness of our ignorance about the universe, along with charming insights into what we actually do understand." - Carlo Rovelli, author of Seven Brief Lessons on Physics and Reality Is Not What It Seems

"Jorge Cham and Daniel Whiteson bring a whimsical light touch to some very heavy topics, and the result is a sheer delight for the reader." - Jennifer Ouellette, author of The Calculus Diaries and Me, Myself and Why: Searching for the Science of Self.